Here's What You Need To Have A Successful Spring Break
Whether you're preparing for an epic road trip to California, or counting down the days until you jet off to Cabo with your pals, there a few things you need to have in order to make this spring break the best one yet!
I don't know about you, but Spring Break snuck up on me this year! Usually, I'm daydreaming of laying out by the ocean, listening to my favorite beach tunes, & browsing the web for new bikinis by mid-February (btw, let me know if you want a dope beach playlist & I'll make mine public for y'all); but honestly, I haven't even been able to think about break until well, right now. Between school, traveling lots, friends visiting, and just LIFE, preparing for spring break has been at the bottom of my priorities. Believe me though, months worth of daydreaming is catching up with me; for example, I am currently writing this blog post in my historical media class because #RoadToSpringBreakFinally. Although I've waited until pretty much the last minute, it's never too late to prepare for a good time. If you're like me & are just now digging your suitcase out of storage, put on some tunes, keep reading, and get ready to pack for the best vacay ever!
Sunnies: it's no surprise that sunglasses are at the top of my packing list! They're hands down my favorite accessory and I'm always the girl that brings like 3 pairs everywhere I go; so now you know who to go to if you forget yours one day. Spring Break is the perfect time to whip out those funky pairs you've been hesitant to wear! Most of mine are from Quay or Free People. Whether you're on the beach, exploring a new city, or road tripping, sunglasses are an essential accessory. If you click here, I'll link ya to my fav pair of sunnies and we can be boujie together (iykyk).
Coverups: I never used to be a coverup kind of gal. My go-to was throwing on a pair of high waisted denim shorts and some Birkenstocks. However, now that I'm getting older and the jeans that I invest in are getting more expensive, the last thing I want to do is get them all sandy! This year I decided to buy a few dress-like, throw overs so that whether I'm sitting on the beach or going to a beach bar, I'm both covered & lookin' stylish! Here are a few of my favs: this (just bought this!) this and this.
Books/Magazines: You can't beat a good book. Or a good issue of Vogue & Conde Nast Traveller. Even if you're not usually a reader, you never know when you're going to need something to pass the time. Magazines or books are perfect to pick up on an airplane or train ride, on the beach or in a park, or even in a cafe while you wait for that one friend that's always late! Sometimes I find myself bored and would rather scroll through instagram on my phone, but I always keep a book or magazine in my bag just in case I'm in the mood. Things I'm reading right now: Big Magic by Liz Gilbert, Modern Romance by Aziz Ansari, Conde Nast Traveller, People, Harpors Bazaar, & Vanity Fair. Books I've read and love: You are a badass, the subtle art of not giving a fuck, the defining decade, Big little lies, The girl on the train, & Looking for Alaska.
Coconut oil, aloe vera, face sunscreen: If you're an OG reader, you are well aware of my obsession with coconut oil. I've probably written at least 3 blog posts dedicated to this holy grail oil. This goes beyond the fad, beyond the trendy reputation of the superfood that it is; I am not kidding, I use it for literally everything. From a makeup remover, to a moisturizer, to sautéing veg or adding it to smoothies, coconut oil is THE essential. It's especially something I recommend having on hand over Spring Break because wherever you're going, be it the colder weather or the warmer weather, your skin will need some moisturizing. The best feeling ever is taking a shower after a day spent on the beach and then applying coconut oil from head to toe. And yes, all the way to your toes, they get sunburnt too!! Along with coconut oil, it's always a good idea to have additional face sunscreen, like a tinted (or non-tinted) moisturizer with SPF and aloe vera for when all else fails and you inevitably become a lobster.
A deck of cards: Honestly, I'm very disappointed in my generation and their lack of card game knowledge. No, I am not talking about cards against humanity or what do you meme, I am talking about a good ole' fashioned deck of cards. From the age of 13 to 20 (now), I've been sitting on the balcony of my beach condo or around the dining room table playing card games with my family and best friends. Sure, the card games have evolved from War, to BS, to Spoons, to Gin, to more "advanced" games like Ring Of Fire. However, whatever the card game, it's been a go-to pastime during vacations. I know you're all probably thinking, why do I need a deck of cards if I'll be on the beach or exploring the city or doing literally anything else. Well, in my experience, there is always down time! Whether you're waiting to go to dinner, ordering take out pizza, taking a break from the beach, or have some time to kill on an airplane or in the hotel room, playing a card game with friends and fam is a much better alternative to sitting around on your phones and not enjoying each others company.
Hats: Baseball hat, beach hat, brixton hat, visor, beret, ALL THE HATS! In my opinion, the right hat can take an outfit from 0 to 100 real freakin' quick. If you're planning on being on the beach this spring break, I always make sure to either have a few baseball hats or beach hats in my bag! If you're walking around a city and grabbing brunch with your friends, adding a brixton hat or beret is so simple and subtle, yet will always complete whatever look you're going for!
Portable speaker: Everything is better with some bomb tunes. Nuff said.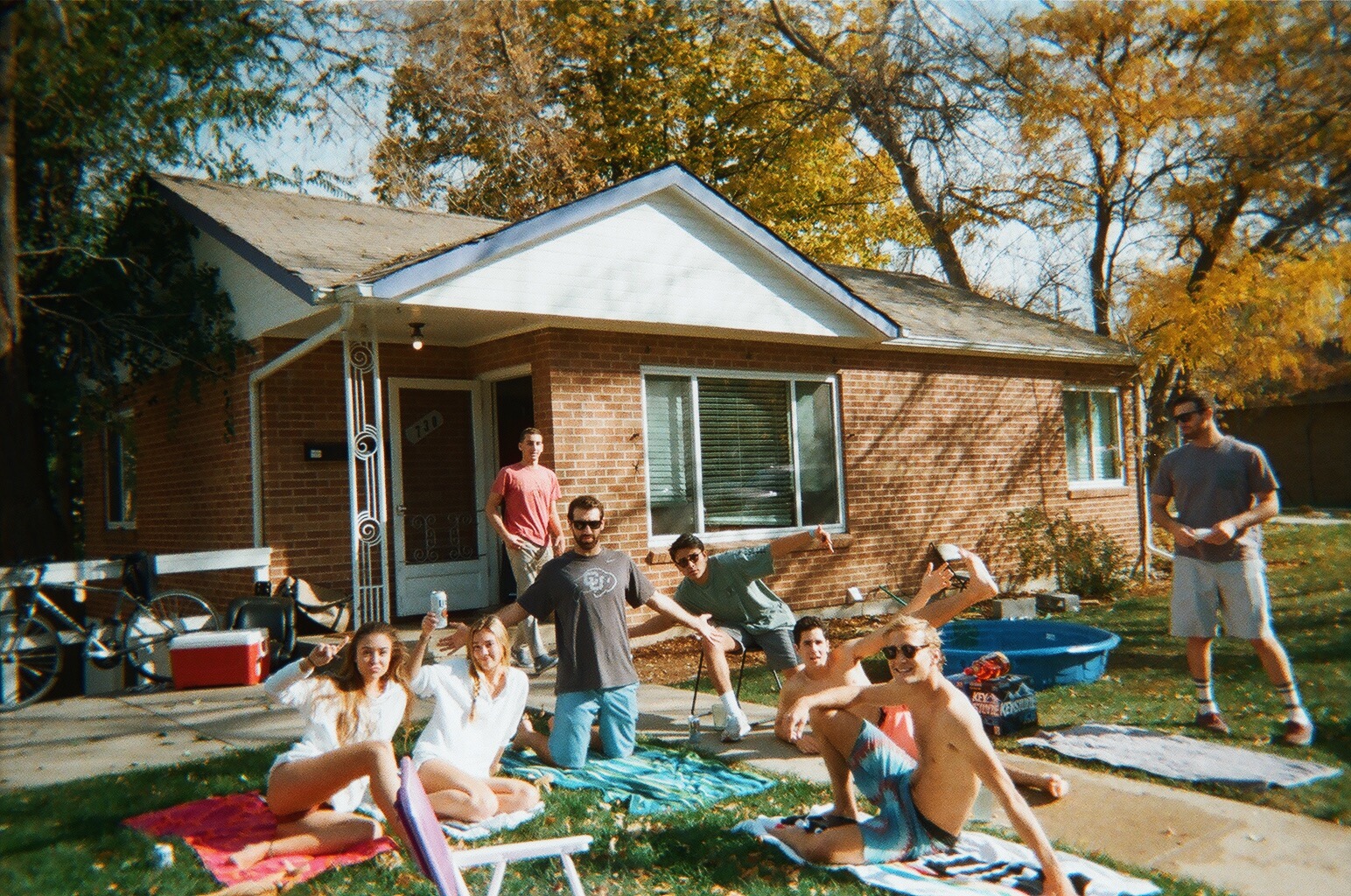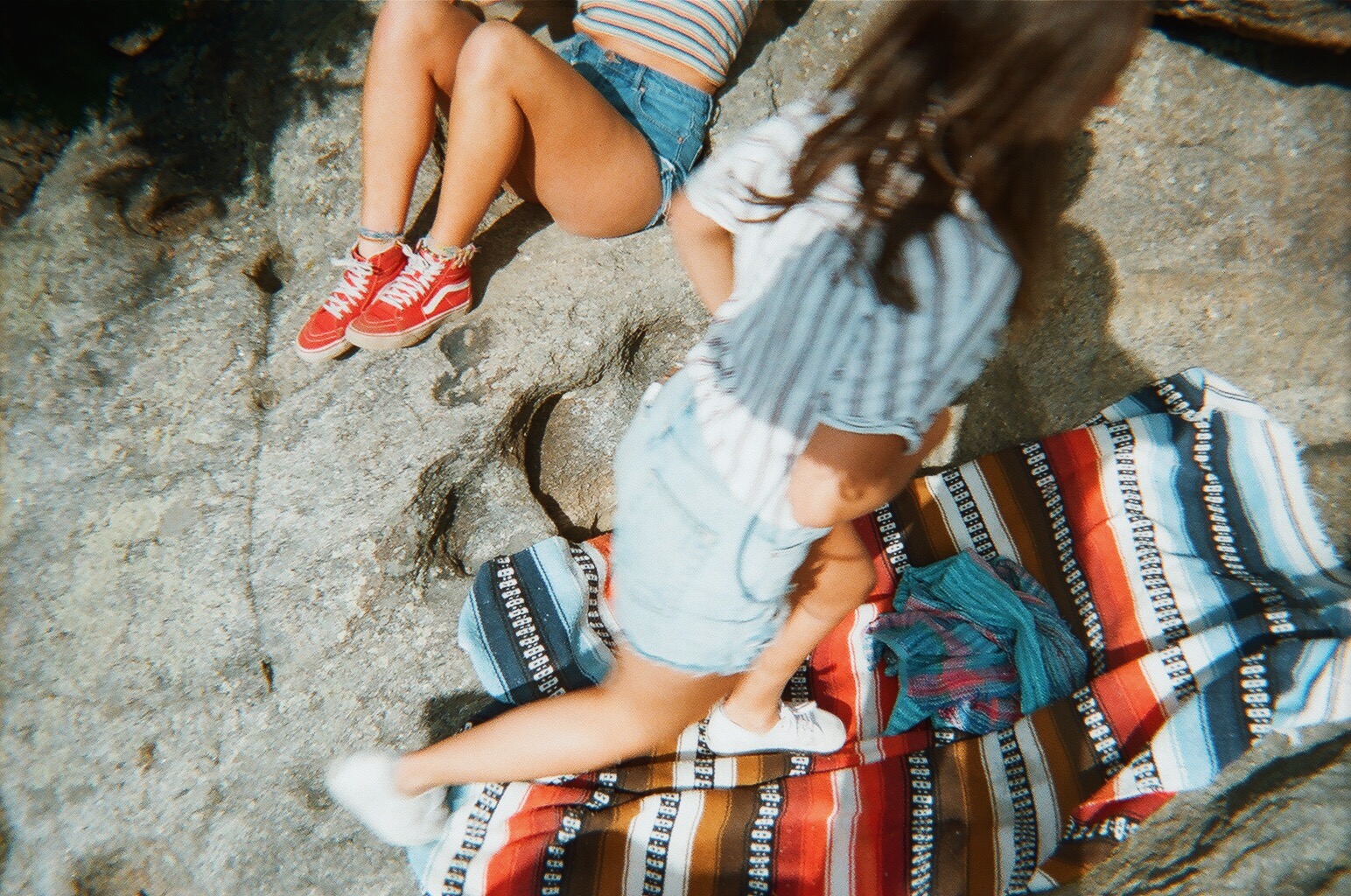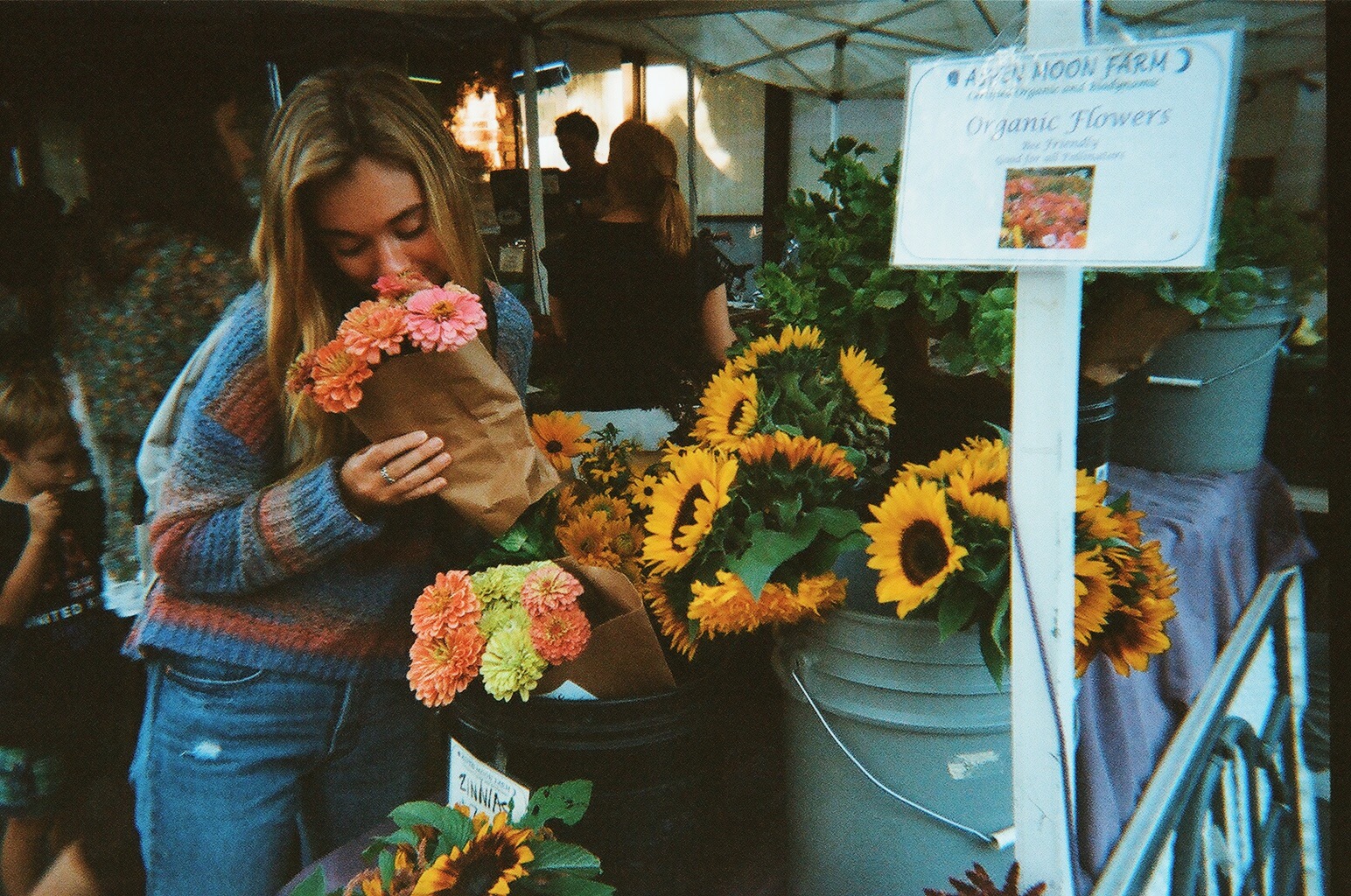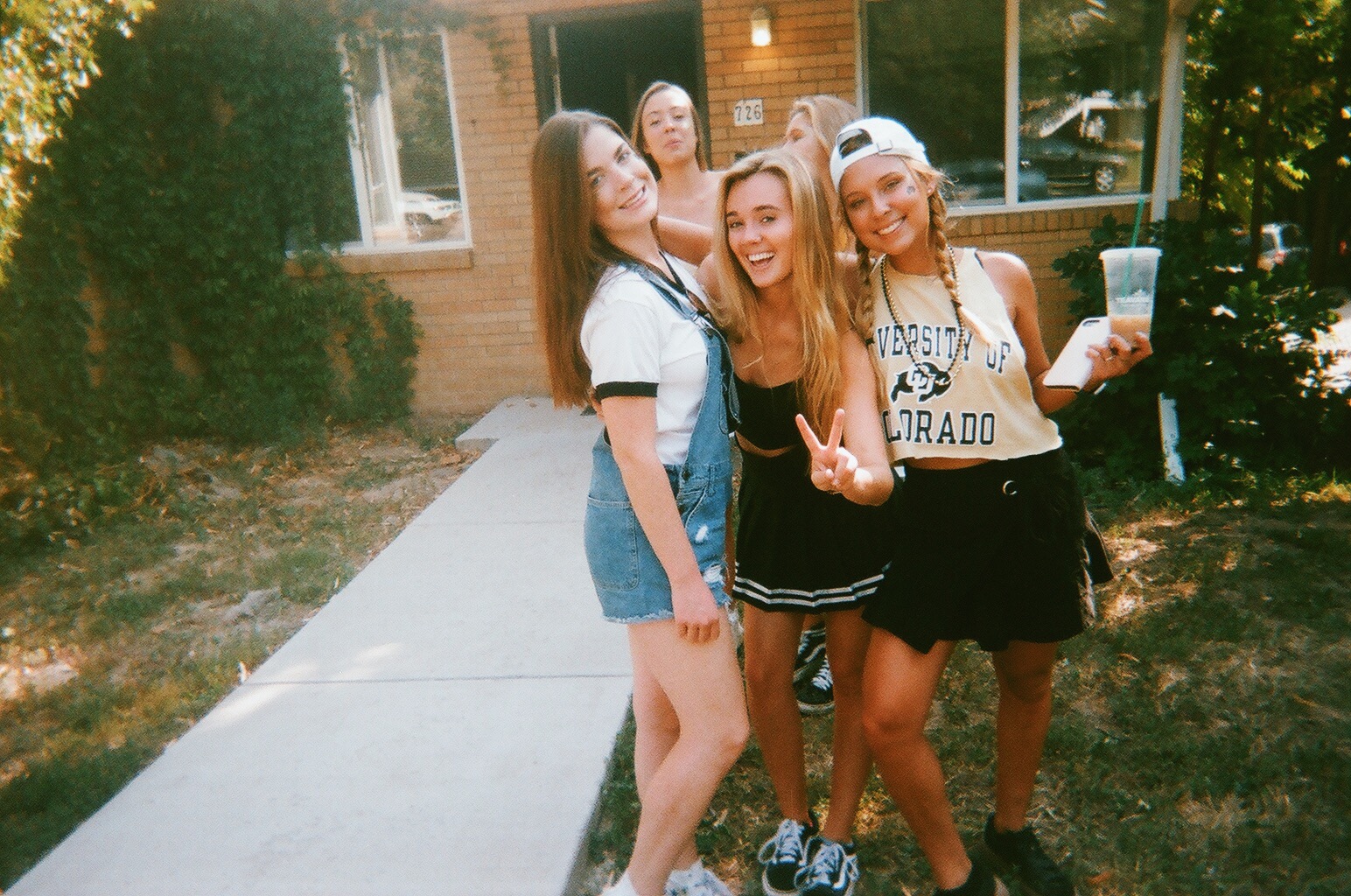 Disposable camera: because we all know that taking photos over break is an essential part of the whole experience, why not make it fun and capture some memories on disposable. It's always exciting to have to wait until the photos are developed to see if they're good and simply just reminisce on the memories you made! Above are still some of my favorite photos & they were all taking on a disposable cam!
Reusable water bottle: Okay, for both convenience and sanitary purposes, having a water bottle that you can use all week is a must. This will not only separate your drink from everyone else's (so you avoid drinking from someone else's solo cup or prevent anything being slipped into yours), but it also eliminates the use of plastic cups!! Think about the environment people!!!!! Also, no one will know (or assume) what's in them aka you can post all the photos you want. Or ya know, last, but not least a reusable water bottle is good for staying hydrated too #GottaLoveThatH20.
Snacks: The last thing anyone wants is to be laying on the beach or walking around town when hunger strikes. You'll either end up having to spend money on a snack or have to hike up to the beach condo/hotel to grab some food. That's both a waste of money and too much effort. It's Spring Break for crying out loud, we're all either a little lazy or broke. Or both #thriving. My favorite snacks to pack in my beach bag or purse include: raw veggies & dip (like hummus or guac), hydrating fruits (like watermelon, honeydew, & berries), popcorn, tortilla chips & salsa, salt and vinegar almonds, & refreshing drinks like iced tea, kombucha, or fruit water!
It's always good to be prepared, or even a little over-prepared, for things like Spring Break. So, make sure you have everything on your list checked off and maybe double check, too!
HAVE A BOMB ASS SPRING BREAK, LOVES. STAY SAFE & MAKE SOME MEMORIES.